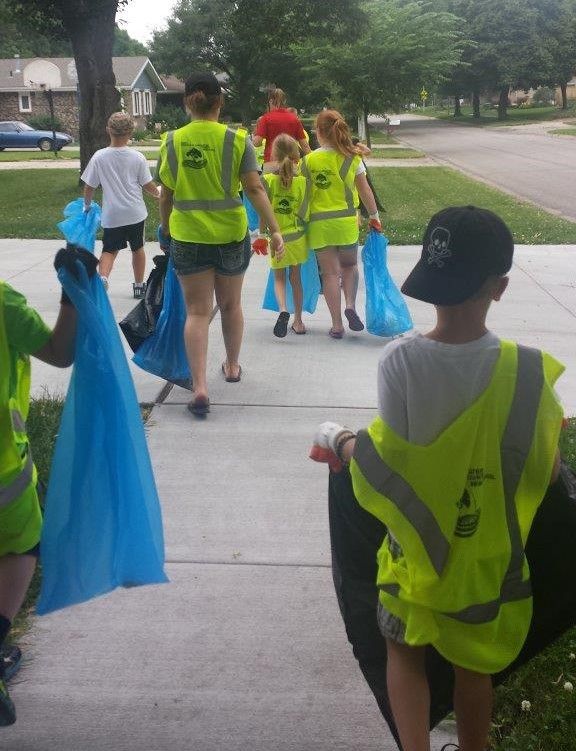 On Friday, August 7th, Waverly-based Viking Discovery Program kids enjoyed a kid-planned celebration that included a pinata, cake, dancing and more as a result of a grant award received for their work to Keep Lincoln & Lancaster County Beautiful.
On Tuesday, June 30th, visiting expert and Lancaster County representative, Adam Rhoads, was at our Waverly site to give a presentation about recycling. Viking Discovery Program kids played an outdoor relay recycling game. Afterwards, the group cleaned liter up around the school and Wayne Park to be separated into trash and recycling. As a bonus, Keep Lincoln & Lancaster County Beautiful has an incentive grant program that rewards community groups for cleaning up their community space. Based on the 10+ square acres walked, our Waverly site was awarded $116!
Also on Tuesday, June 30th, Cass County representative, Linda Behrns, was in Eagle at 9:30am to give a "Fred the Fish" presentation. An interactive video followed Fred through river systems and talked about different pollutants he encountered along the way. Older students worked on a water filtering project while the younger ones colored a picture of Fred the Fish. Around 10:30am the entire group walked to the park to pick up liter in order to help Keep Cass County Beautiful! Cass County does not have any incentive grant funding to back their Program, so even though the Eagle site participated in the Program, they were not eligible for funding.