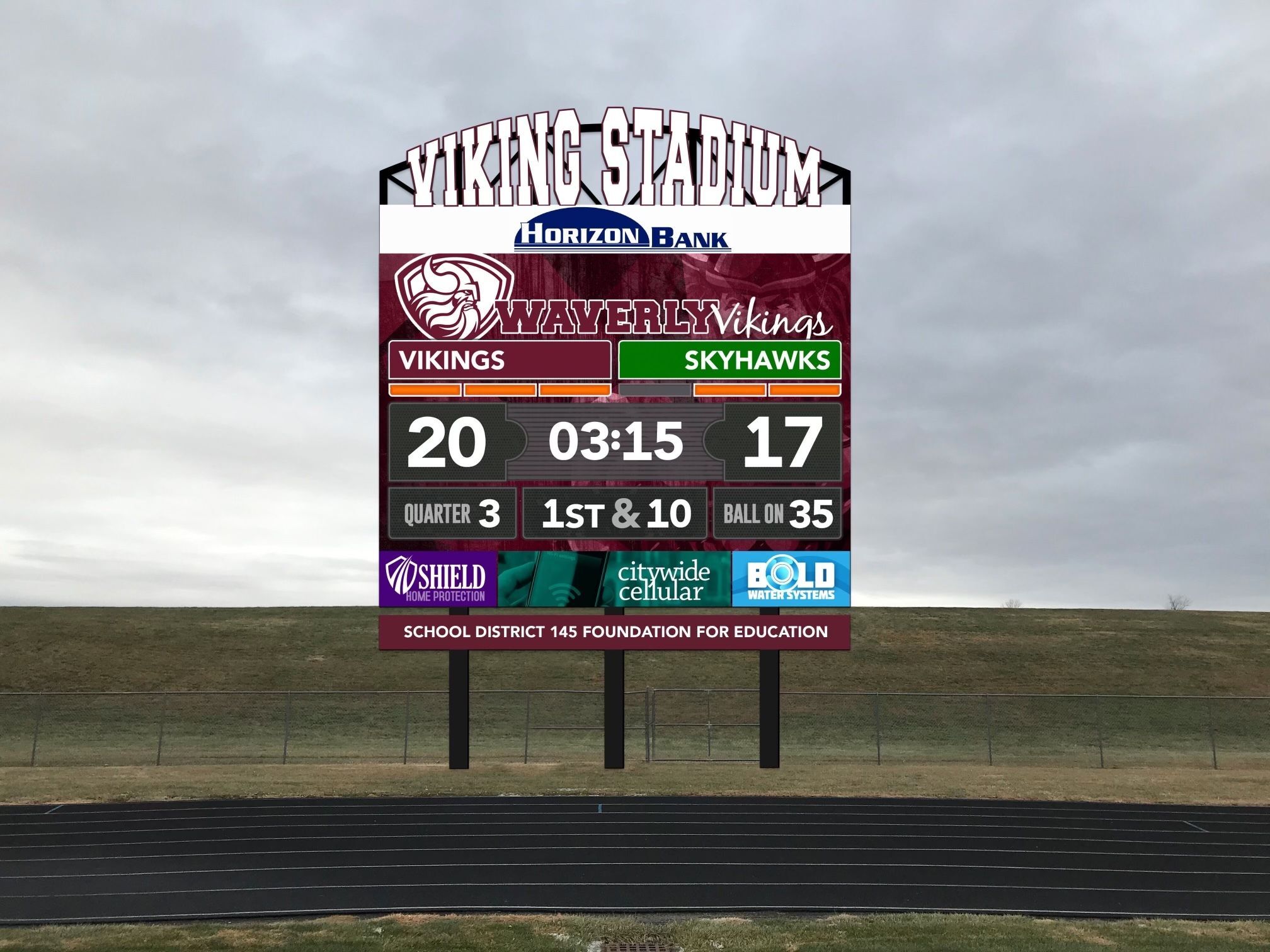 Forward Maroon Campaign
In February 2022, the School District 145 Foundation for Education approved a $1.2 million campaign focus titled Forward Maroon. The campaign will build on community traditions while adapting to new needs presented by east Lincoln growth and curriculum expansions. Upon completion, dynamic scoreboards with vivid digital display will be installed at Viking Stadium, the Waverly High School softball field, and the main competition gym at Waverly High School. Sound upgrades are integrated into the dynamic scoreboard designs. Further, the concession stand and plaza that serves Viking Stadium and the Waverly High School softball field will undergo a state-of-the-art renovation to provide the community an amazing place to gather to celebrate our students.
In addition to enhancing school and community experiences, the scoreboards will be utilized as dynamic teaching and learning tools in Waverly High School's Advanced Publications course, giving students real-world career experiences unavailable without them. The intersection of computer programming, advertising, graphic design, and professional media production creates abundant opportunity for students to prepare for careers in Journalism, Marketing, and Graphic Design.
Horizon Bank is the oldest business in Waverly, serving and supporting community members since 1907. Horizon Bank has consistently invested in the work of the School District 145 Foundation for Education during its 32 years of operation, and that long-standing partnership continues to impact the lives of students today. Horizon Bank purchased the $150,000 Title Sponsorship on the dynamic scoreboard at Viking Stadium, enabling production contracts to be signed in time for August 2022 installation.
Viking Stadium is widely used by students and the greater community. In 2022-2023 Viking Stadium will host Waverly High School's sports and clubs Booster Bash, a new Marching Band Competition, 20 football games, 35 soccer matches, and 9 track meets, in addition to various community and youth sports events. Over 35,000 people will visit Viking Stadium to watch an event this year.
If you'd like to get involved or want more information about how the School District 145 Foundation for Education helps our public-school students every day, contact Foundation Executive Director, Sara Martin, by e-mailing executivedirector@dist145ffe.org or calling 402-525-5568.
About School District 145 Foundation for Education
The School District 145 Foundation for Education is a 501(c)(3) non-profit organization whose mission is to enrich the educational experience in our schools by providing financial resources to support creative endeavors that will promote the achievement and success of our students. For more information, please visit www.dist145ffe.org.